Buccaneer Cove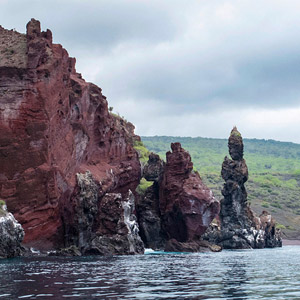 Buccaneer Cove is a testament to the fact that Santiago Island was once a refuge for British buccaneers. These pirates would anchor in the protected bay to make repairs and stock up on tortoise meat among other things. The steep cliffs, where hundreds of seabirds perch in front of the dark red sand beach, are a magnificent site.
Highlights: Sea birds, historical site, snorkeling, rock formations
Possible Activities:* Short walk along the beach (less than 0.6 mi/1 km)
Type of Landing: Wet Landing
Difficulty: Easy
*Activities will be operated according to each boat itinerary.