Prince Phillip's Step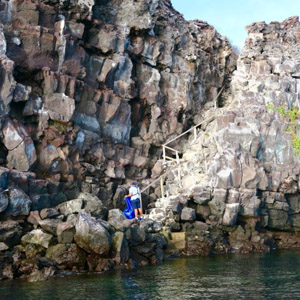 Is located in the southern part of Darwin Bay. There is a 1.5 km trail on volcanic rock and the trek can be done in about 2 hours. This is the youngest area of the island, from a geological point of view. The cliffs located in the south are composed of very fragile lava.
Highlights: Red-Footed Boobies, Short eared Lava Owls, Storm Petrels.
Possible Activities:* Hiking
Type of Landing: Dry Landing
Difficulty: Easy
*Activities will be operated according to each boat itinerary.