Suarez Point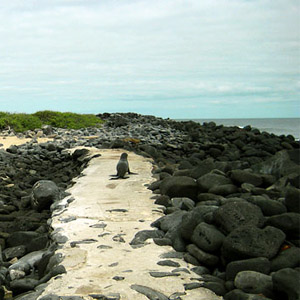 This area is great for spotting blue-footed boobies, albatrosses and Nazca boobies. A beautiful site on the ocean front, the large waved albatrosses use the cliff as a launching pad. The famous attraction is the magnificent blowhole, spurting water high into the air. This site presents wonderful photograph opportunities.
Highlights: Hood mockingbird, Nazca boobies, waved albatross, red-billed tropicbirds, lava lizards, Galapagos hawk, blue-footed boobies, blow hole, amazing landscape
Possible Activities:* Hike (1.9 mi/3 km)
Type of Landing: Dry Landing
Difficulty: Difficult
*Activities will be operated according to each boat itinerary.